The purpose of the Izutsu group of companies is to create a 'department store' for all the products, not limited to textiles, that are found in Japanese Buddhist temples and Shinto shrines.

izutsu Hoiten is one of the two largest makers and purveyors of Japanese Buddhist priest robes, Shinto priest robes and various temple and shrine fabric altar decorations. This is the original company in our group with more than 300 years of history and is located across the street from Nishihonganji Temple, in the heart of Kyoto. This market is a large and vibrant one.

Izutsu Juyohinten makes and distributes the wide array of amulets, talismans and other 'good fortune' related traditional items offered to worshippers at Buddhist temples and Shinto shrines. Izutsu brings creativity to developing new items and even distributes to Japanese shines and temples abroad. This market is a large and vibrant one and Izutsu is one of the two largest players in the market.

Izutsu Shozokuten makes and sells traditional Japanese costumes and floats for festivals, ceremonies, theatrical performances and so on. This company makes many of the costumes worn by Kyoto's geiko and maiko (called geisha in Tokyo) in their theatrical performances.

Izutsu Kikaku researches historical weaving technique and costume reproduction for festivals, customs, performances and in recent years for television and films studios' period dramas. Our planning office also assists communities in researching and rejuvenating lost or endangered festivals and religious events.

The costume museum was started in 1974 by our 8th generation owner, Gafu Izutsu. In addition to carrying on and developing the family business, Gafu was a noted art scholar and spent more than a decade researching the development of traditional Kyoto costume from the Heian era (794) to modern times. Gafu authored the first book in Japan on the subject and the Costume Museum is a three dimensional presentation of Gafu's research. The museum is open to the public.
Daikonya is Izutsu's weaving factory and is located in the heart of Kyoto's weaving district. Here our staff of about 20 weavers handcraft the finest silk and gold brocade used in priest robes and temple and shrine decorations. In addition to traditional brocades, our daredevil weaving team collaborates with noted designers abroad to develop novel textiles for high fashion and luxury markets.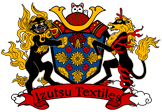 Izutsu's latest venture has two missions. International: to develop new products and distribution channels for markets abroad. Domestic: to develop modern research and marketing practices for traditional products related to Izutsu's core business.